What are Serious Games? On this page you will get an insight into how complex contexts can be implemented in a playful way – digitally and analogue – and how the DKKV uses serious games.

Serious games get their name from the idea that serious content can often be conveyed more memorably through play. Instead of a dry lecture, games arouse interest and capture attention. But even though they are games, serious games by no means disregard sensitivity to serious topics and continuing education. For game developers, one of the central challenges is therefore to find a balance between imparting knowledge and enjoying the game.
In many areas, knowledge can be imparted in this way, and serious games have already been used for many years in the field of civil protection and disaster risk management.
Serious games are a classic approach as part of risk communication and civil protection education, particularly in support of individual emergency preparedness (Karutz & Mitschke 2018; Krings 2016). They also facilitate the transfer of knowledge without qualified pedagogical support and are therefore increasingly used (Blötz, 2015). An overview of some serious games in this subject area can be found in Solinska-Nowak et al. (2018), Taillandier et al. (2018), and Tsai et al. (2015).
Goals of Serious Games
Convey complex contents in a playful and entertaining way
Enable a change of perspective and experience new points of view
In persona: meeting people in a relaxed atmosphere while playing a game
Many serious games are implemented as digital games that can often be played directly in the browser. A great advantage of digital games is that they can be played alone and without much effort. Digital games can also be very effective: in a comparative study (Mani et al. 2016) it was found that knowledge about volcanic hazards could be conveyed better with an interactive and immersive video game than through lectures by experts.
Two digital games that can easily be tried directly are "Max und Flocke Helferland" and the "MurGame".
Max und Flocke Helferland
has been used by the Federal Office for Civil Protection and Disaster Assistance (BBK) since 2011 and is especially aimed at children. In the game, children are introduced to the subject of first aid and learn the correct behaviour in the event of dangers such as floods, thunderstorms, or fire (Max und Flocke Helferland).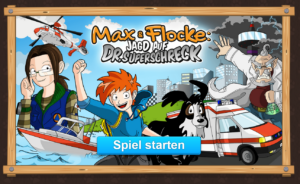 (Source: Max und Flocke Helferland)
MurGame
Developed by the WSL-Institute for Snow and Avalanche Research SLF, among others. Players have to protect an Alpine village from gravitational mass movements. The game is based on the simulation software RAMMS::DEBRISFLOW, which is widely used in practice for debris flow modelling, and the players have to keep an eye on the economic efficiency of the measures in addition to preventing damage (Murgame).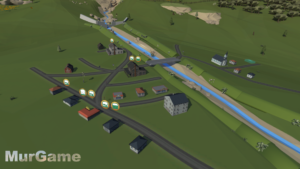 (Source: Murgame)

In addition to online games, many serious games also exist as board, plan, group, and social games. Especially in a country like Germany, where 29% of the population frequently plays board games (Splendid Research, 2017), such games offer a good approach to motivate people, get them talking and impart new knowledge. A special feature of analogue serious games is the group dynamics that arise. The interaction with the other players is central and an important component.
Depending on the game, the focus is placed on a different type of knowledge transfer. It can be primarily about the simulation of a certain situation or about interaction and communication of situations. Some examples of these categories can be found below.
Hazagora: will you survive the next disaster?
Citizens, schoolchildren, and scientists should gain a deeper insight into the development of disasters and be sensitised to dangers and risk-minimising measures. Surveys after the game showed that the players not only enjoyed playing the game, but that the content was also effectively communicated (Mossoux et al., 2016).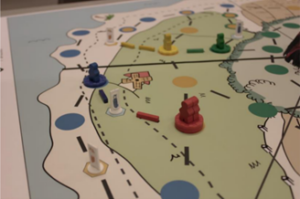 (Source: Mossoux et al., 2016)
Collection of Group Games of the IFRC
On the website of the Climate Centre of the International Federation of the Red Cross Society, several games are presented that deal with topics such as disaster risk reduction, adaptation to climate change or social inclusion.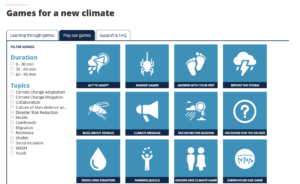 (Source: Climate Centre IFRC)
Publication of the GIZ
This publication of the German Society for International Cooperation (GIZ) is a compilation to support experts and practitioners in communicating climate change and necessary adaptations.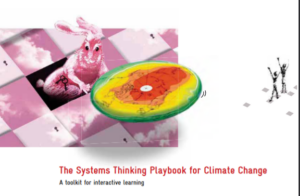 (Source: Klimamediathek GIZ)
DKKV has been working with serious games for several years and uses them regularly in workshops. Below you will find some of the games that DKKV likes to use. If you are interested in a workshop with serious games or would like to receive game materials for your own use, please contact us.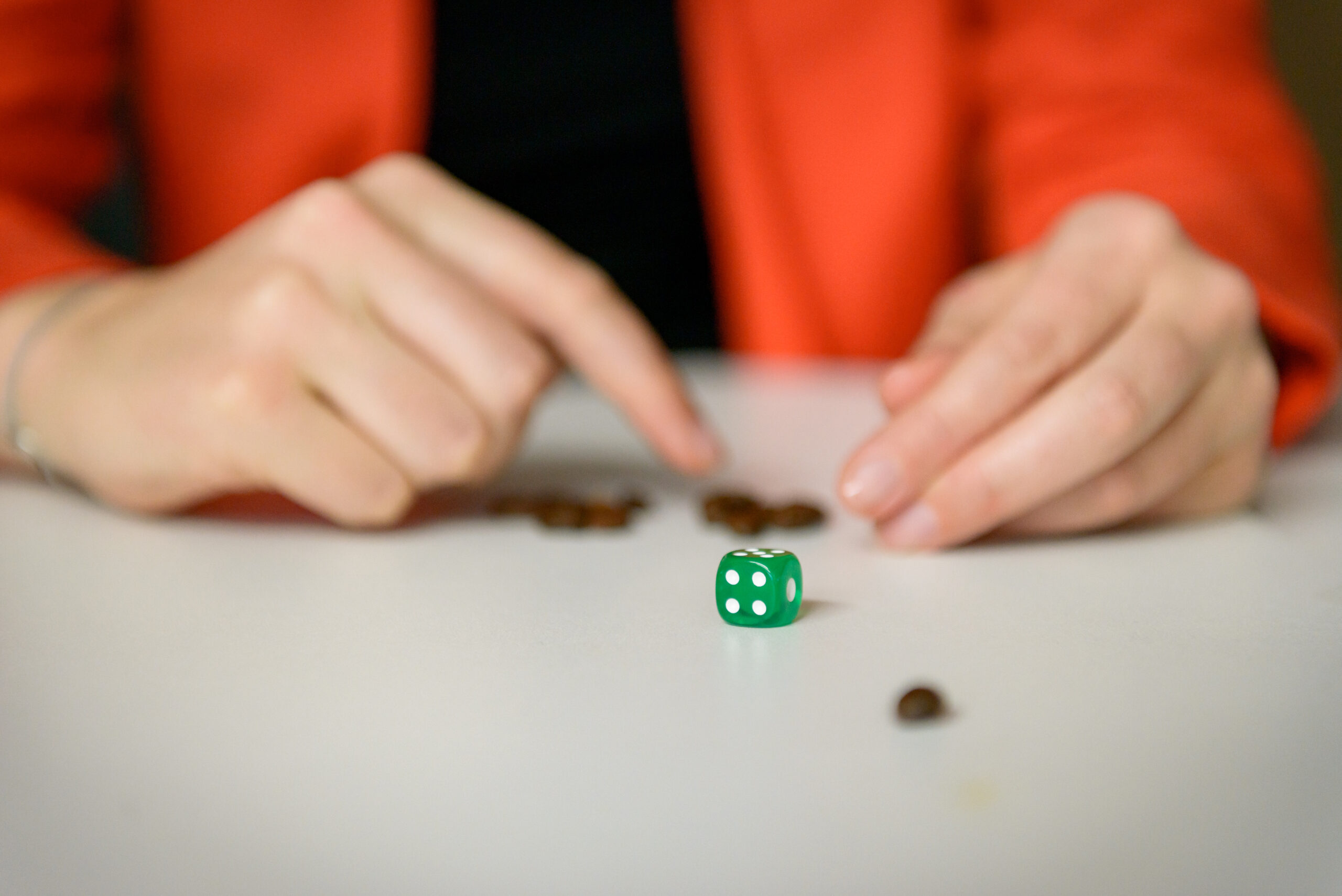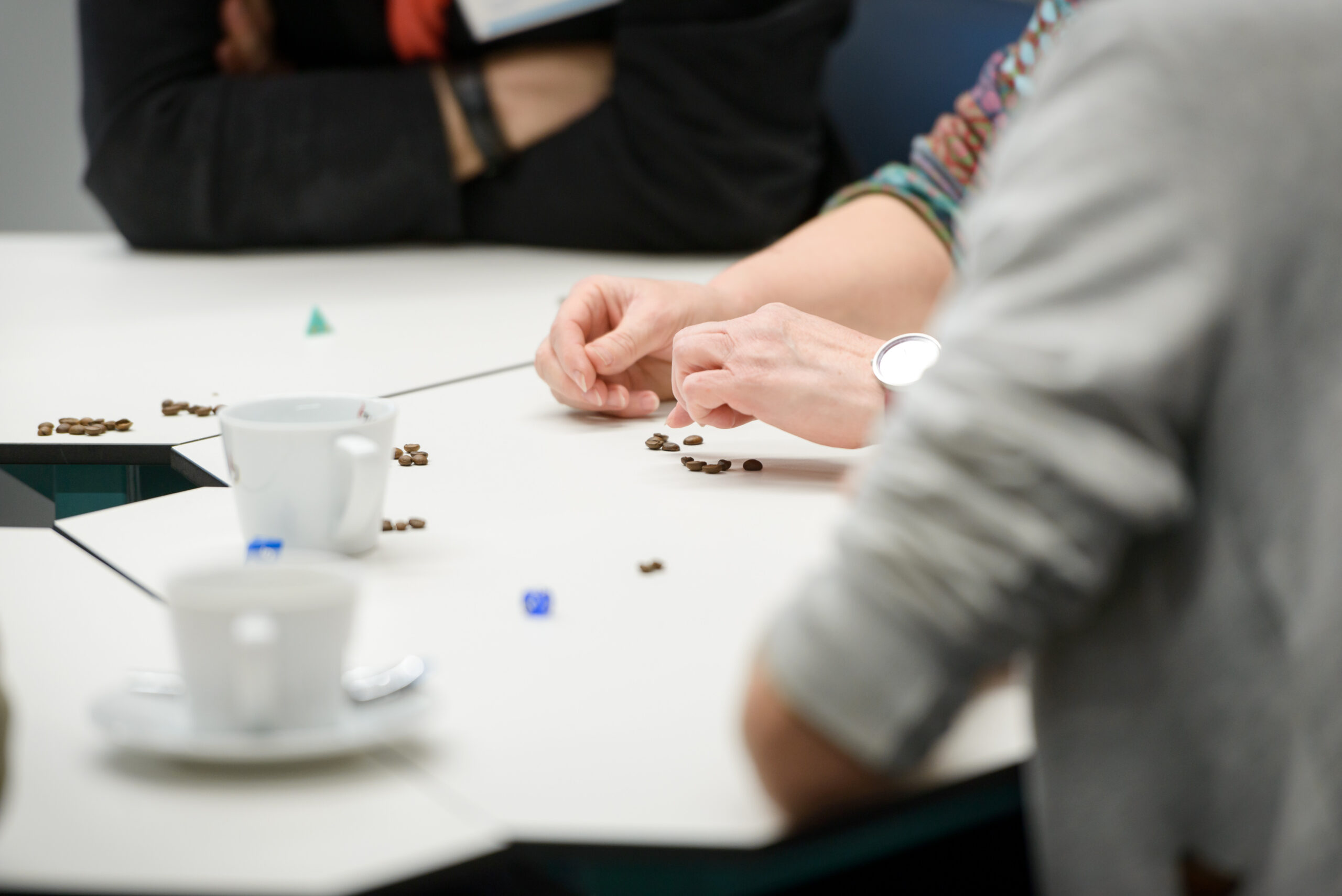 Prevention Game
The Prevention Game is a simple dice game in which the players take on the roles of mayors and have to decide whether they want to take measures such as sandbags, sheet piling or evacuations in the face of possible heavy rain. However, these measures cost valuable resources – but the occurrence of a flash flood would lead to much greater damage!
As the game progresses, other topics are introduced into the game. For example, climate change alters the probability of floods occurring, local adaptation can reduce the risk and early warning systems simplify decision-making.
The prevention game has already been used successfully in a number of workshops as an icebreaker and as an introduction to the topic of disaster risk reduction and lasts 20-30 minutes including a final discussion.
The feedback from the players confirms that it is very suitable for introducing the topics and, above all, that it leads to a pleasant and relaxed workshop atmosphere.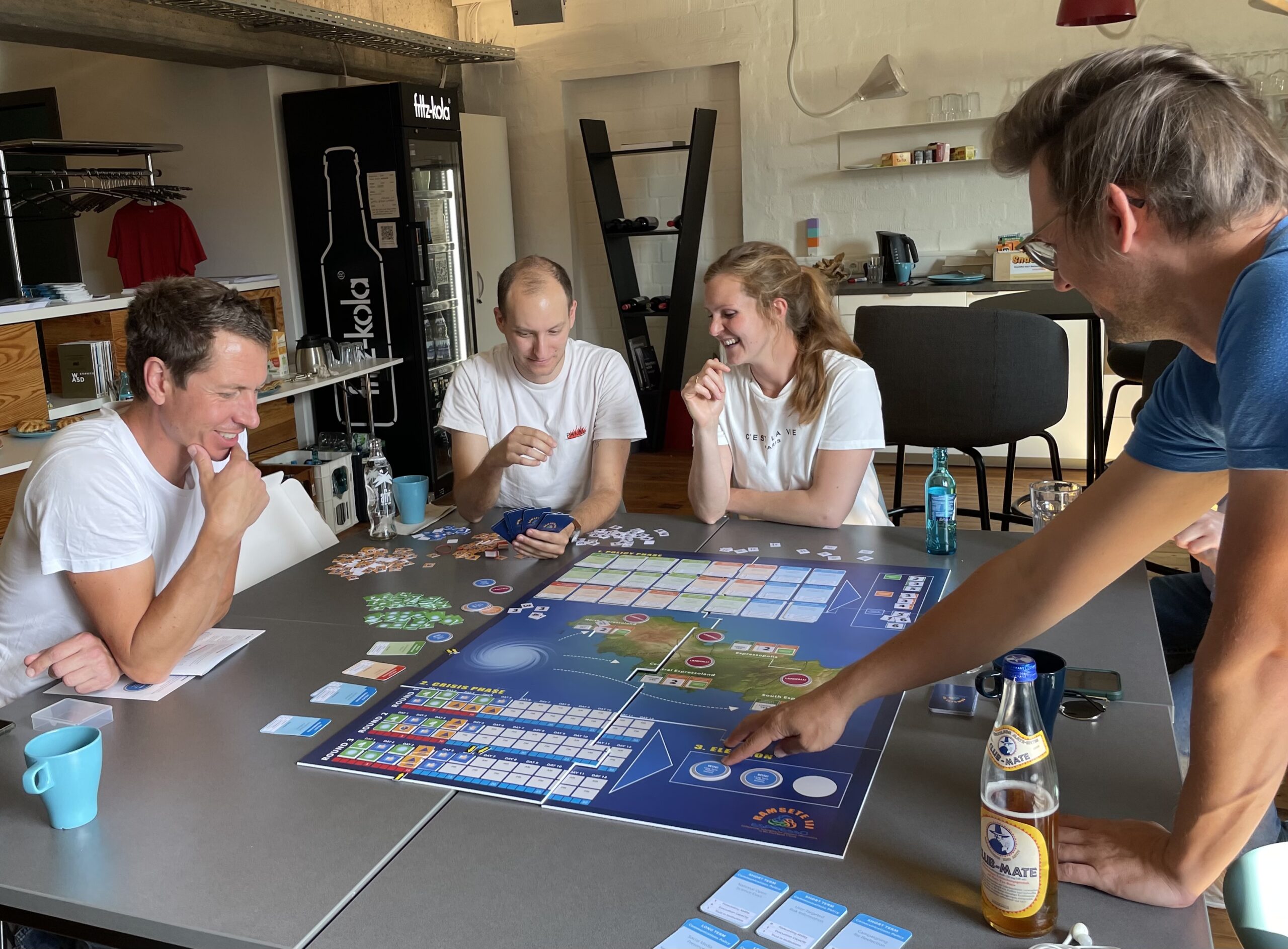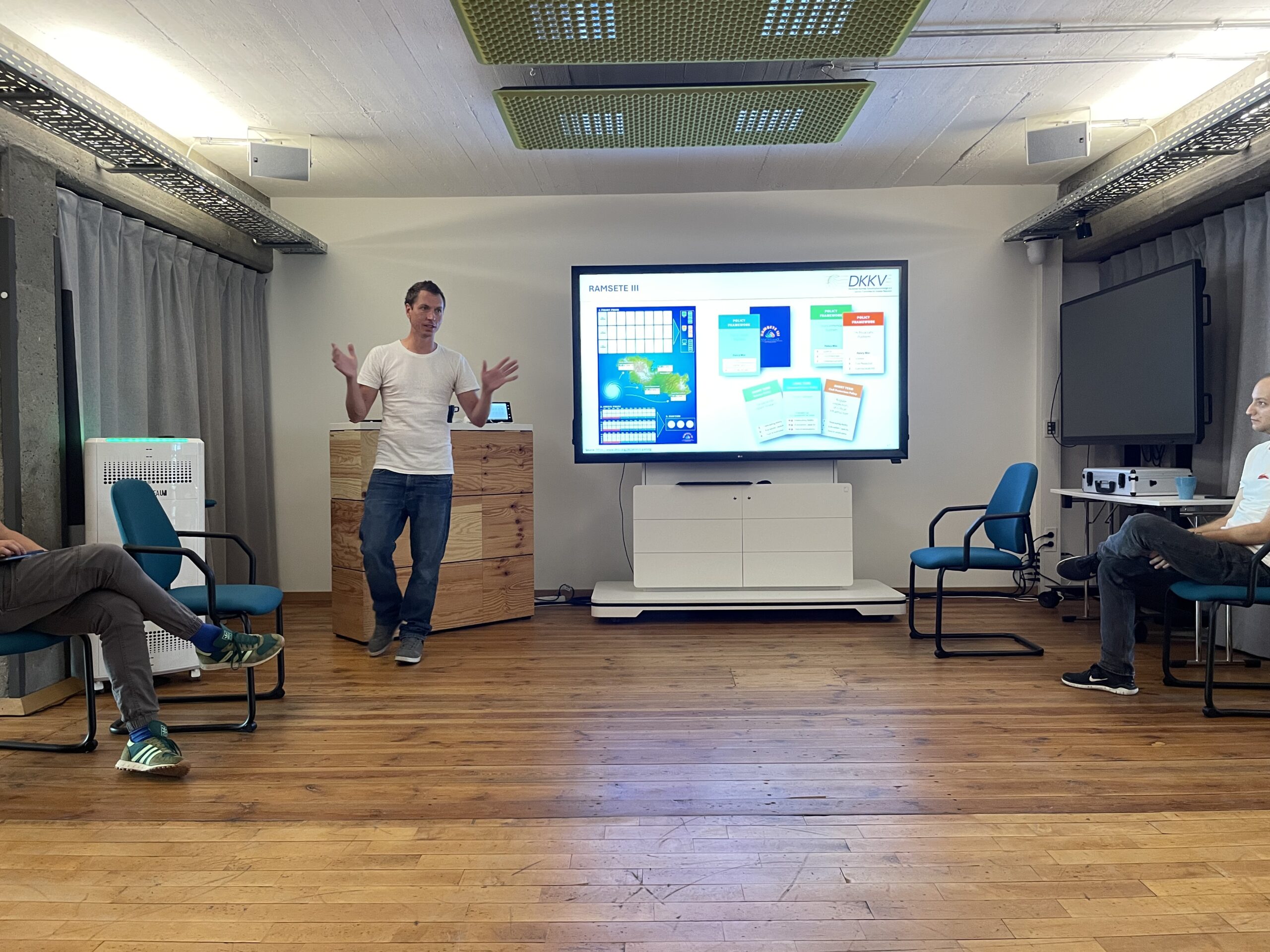 Ramsete III – Risk Assessment Model Simulation for Emergency Training Exercise
Within the ESPREssO Project three games were developed to address the central challenges of the project in stakeholder workshops (Fleming 2018):
The first game "RAMSETE I" dealt with the integration of Disaster Risk Reduction (DRR) and Climate Change Adaptation (CCA) at the national level and presented this on the basis of the different responsibilities (DRR – Ministry of the Interior; CCA – Ministry of the Environment). The aim is to break down the existing silo thinking within their own competences and to jointly develop a strategy for the sustainable implementation of measures on CCA and DRR.
"RAMSETE II" addresses cooperation across borders in the face of a disaster event. Actors from a centralised and decentralised state are to work together to overcome the crisis.
The serious game "RAMSETE III – Uncertainty – from Science to Policy" addresses the difficulties of decision-making in crisis management. The game has been prepared for publication and is available for free use by third parties.
In the game, an island is threatened by a storm, but it is not known when the storm will hit the island and which parts of the island will be affected. The central task of the players is to evacuate the population in time. It is important that the evacuation is carried out effectively and not too early or too late. This promotes interaction among the players and simulates the handling of uncertainty in decision-making processes in critical situations. In the game, the players take on different roles from science, civil protection, as decision-makers and as government spokespersons. Policymakers are supposed to make decisions based on the recommendations of science or civil protection – or not! Furthermore, continuous information and communication with the population through press conferences is necessary. A successful evacuation of the well-informed population is rewarded with the re-election of the decision-maker.
We offer the game RAMSETE III in workshops. In addition, all game materials can be distributed by us as downloads (Creative Commons Attribution-NonCommercial-ShareAlike 4.0 International License)
Serious games are an entertaining and effective method for conveying complex content – regardless of whether it is about climate change adaptation, local crisis management or other topics. They make it possible to get to know new contents through play and to experience new points of view and perspectives directly. A desired side effect of serious games is a relaxed atmosphere that is difficult to achieve with the usual PowerPoint presentations. DKKV has often observed that discussions can develop in this atmosphere that would not have come about without serious games. Due to the numerous positive experiences, DKKV regularly uses serious games in workshops and supports the development of new serious games in the subject areas relevant to DKKV.
Do you know of any other games in the field of disaster risk management? Feel free to send us a message!