Summer School 2023
9th to 15th of July 2023

Summer School Disaster Risk Reduction
The Summer School "Disaster Risk Reduction" took place from July 09 to 15 2023 at the Environmental Campus of UAS Trier, organised with the support of DKKV. International students from a wide range of scientific disciplines met for six days to learn more about the basics of disaster risk reduction and disaster management. Disasters are complex phenomena which increasingly tackle our daily lives now and in the future touch upon every professional field in its own way. Thus, it becomes more and more important to have well-informed and trained people to mitigate the social, infrastructural, and economic challenges due to disaster risk.
The programme was oriented at the disaster management cycle. The DKKV opened the Summer School on Tuesday with an input on the topic of Prevention and Preparedness – in the course of which the DKKV also introduced itself. The participants were able to directly put theory into practice and take on the role of decision-makers in disaster risk management in a Serious Game. On Wednesday and Thursday, input on the topics of Response and Recovery followed, including from HeiGit, the Herrstein fire brigade and the climate protection officer of the Ahrweiler district.
The students were able to gain practical impressions during an excursion to the Ahr valley and during a trip to Bonn. There, the Bonn Network for International Civil Protection and Disaster Risk Reduction and the network partner Aktion Deutschland Hilft first introduced themselves in the Old Town Hall. Susanne Nolden then presented the concepts of the city of Bonn in the field of disaster preparedness. Bonn plays a pioneering role in this area throughout Germany and is a "Resilience Hub" in the "Making a Difference" initiative since this year. Afterwards, the DKKV Young Professionals gave a guided tour of the city on the topic of floods and flood protection. In the Rheinaustraße in Bonn, the students were able to search for numerous flood protection measures. Afterwards, the "Joint Situation and Reporting Centre (GMLZ)" of the federal and state governments opened its doors. The experts on site explained how disasters are analysed and classified in Germany and how the close contact with the European civil protection mechanism works. Finally, the group visited the Federal Agency for Technical Relief (THW), which, after an introduction, demonstrated some special features of its technical equipment such as a concrete saw, hydraulic cushions and floating components with enormous load-bearing capacity. After a relaxing joint evening at the "Alter Zoll", the participants returned to Birkenfeld for their last day.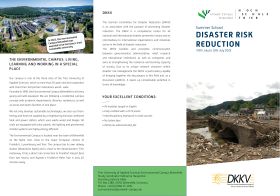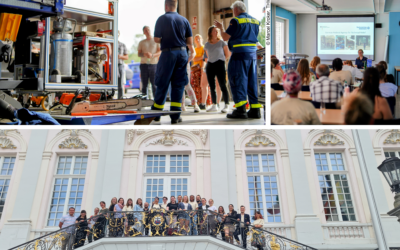 Last week, the Summer School "Disaster Risk Reduction" took place at the Environmental Campus...
read more