The networking and transfer project Aqua-X-Net accompanies the BMBF funding measure hydrological Extreme Events (WaX) and supports the networking and synthesis of twelve research projects that conduct research on the sustainable and innovative management of water extremes.

© iStock | ZU_09; AdobeStock | PIXMatex
Aqua-X-Net: Networking & Synthesis
The flood disaster in July 2021 in Rhineland-Palatinate and North Rhine-Westphalia impressively showed the enormous damage that heavy rain and floods can cause. At the same time, Germany has experienced extreme droughts and heat events in recent summers. In the course of climate change, an increased occurrence of such hydrological extremes is expected in many regions of Germany. This underscores the need for practice-oriented research that improves the overall risk management of water extremes as well as their prediction and early warning.
With the funding measure 'Hydrological Extreme Events' (ger.: Wasser-Extremereignisse, WaX), the BMBF is now funding a total of twelve interdisciplinary and application-oriented research projects with partners from science, industry and practice. Innovative monitoring, forecasting and communication concepts, adapted water infrastructures as well as operational and risk management strategies for dealing with opposing hydrological extremes are being developed. The research collaborations deal, among other things, with securing drinking water supplies, adapting urban water infrastructures (drainage infrastructure, blue-green infrastructure), increasing the hydrological and ecological resilience of watercourses, developing low-flow risk management of rivers, and developing management concepts for urban heavy rainfall and flooding risks and adapting flood protection. Practical and interdisciplinary approaches limit the impact of water extremes on society and the natural habitat and at the same time open up new perspectives for water management.
The DKKV started the associated transfer and networking project 'Aqua-X-Net' in November 2021, which is being carried out together with the University of Potsdam as a joint partner. By creating event and communication formats, the project facilitates intensive networking and exchange between the twelve research projects, creates synergies and takes on the task of presenting and communicating the results to the public. A cross-project synthesis of the research results is to enable a sustainable and target group-oriented transfer of practice to the economy, practice, politics and the general public. Overall, 'Aqua-X-Net' thus aims to contribute to improved management of water extremes through networking, synergy finding and knowledge exchange that goes beyond the individual projects.
Further information on the WaX funding measure can be found at www.bmbf-wax.de. 
The Aqua-X-Net project is part of the funding measure "Water Extreme Events (WaX)", which is part of the federal programme 'Water Research and Water Innovation for Sustainability – Water:N', which is part of the BMBF's FONA strategy (Research for Sustainability).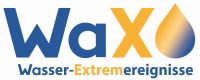 No Results Found
The page you requested could not be found. Try refining your search, or use the navigation above to locate the post.