Risk Communication & Preparedness
Comparative analysis of the floods 2021 in Western Germany and the floods 2018 in Kerala, India

Disaster Risk Communication & Preparedness of Communities
Poor and socially disadvantaged people around the world are always at the receiving end of the aftermath of a disaster. People being able to save their lives and assets and supporting their families, neighbors, and other vulnerable groups are very important in this changing paradigm. This is where risk communication and preparedness of the communities advance as key factors. In this context, the Project Disaster Preparedness & Risk Communication of Communities gains importance.
The project is taken up by Durga Mohanakrishnan, from India, who is one of the selected fellows from the Alexander von Humboldt Foundation's German Chancellor Fellowship Program for the 2022-23 batch and will be hosted by DKKV to do her research fellowship for a period of one year. The Alexander von Humboldt Foundation's German Chancellor Fellowship Program is for university graduates from the United States, the People's Republic of China, Brazil, India, and South Africa with an interest in international issues and demonstrated leadership potential.
The project focuses to collect immense knowledge and information and brilliant measures adopted by the local communities, experts, and other stakeholders of Germany, India and other countries to fight and prevent disasters and their impact through risk communication and preparedness. Here there is a vast scope for an exchange of knowledge and visioning of these practices and measures from the socio-economic context of different countries. The project also focuses on strategizing risk communication and preparedness measures for communities.
Project Period
Ocotber 2022 until September 2023
Funding Body
Alexander-von-Humbolt Foundation
Contact Person
DKKV-Office
info@dkkv.org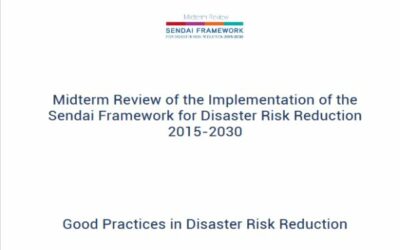 The "Good practices on disaster risk reduction" document from the mid-term review of the Sendai Framework 2015-2030 by UNDRR is a comprehensive resource that presents best practices from around the world for reducing disaster risk. It mainly focuses on promoting...
read more