The Global Hunger Index (GHI) measures and compares the severity of various hunger indicators in indicators such as malnutrition and child mortality in the world, in different the world, different regions and individual countries. It is intended to to raise awareness of the need to tackle hunger hunger, identifies the regions of the world where additional resources are most resources are most urgently needed, and provides Recommendations for action to end hunger.
The 2023 World Hunger Index reveals a worrying trend: Due to a wide variety of crises in recent years, the move towards a world without hunger has almost come to a standstill.
The current world hunger index value is 18.3 and is in the "moderate" category. This means that the global hunger situation has barely improved since 2015 (19.1). In nine countries the hunger situation is classified as very serious. In a further 34 countries there is a serious hunger situation. Globally, nearly one three-quarters of a billion people lack adequate food supplies.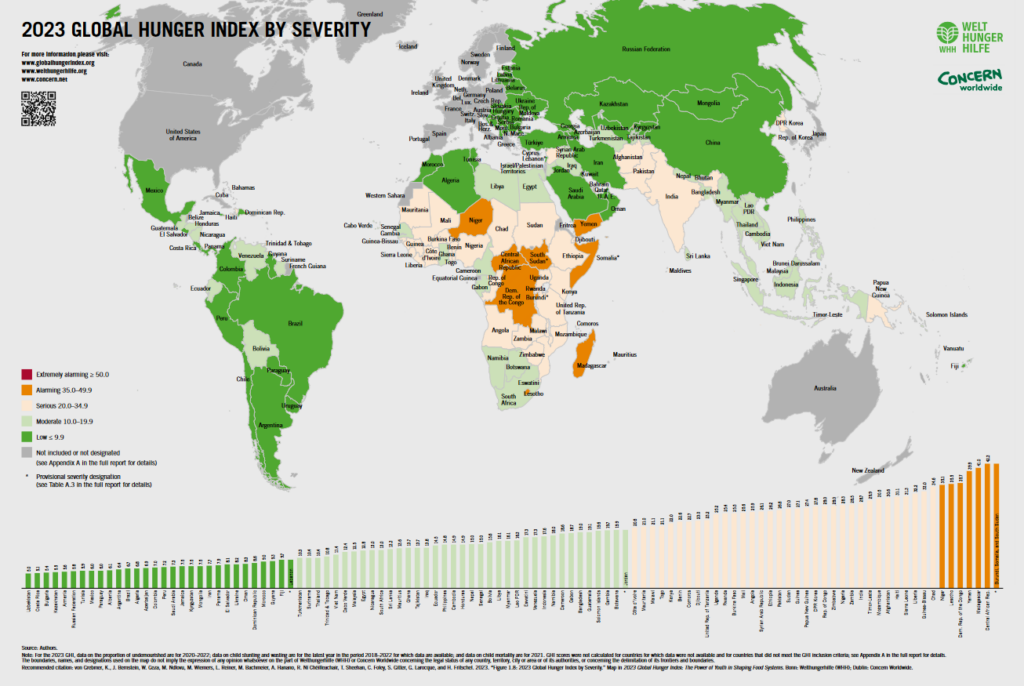 Various crises, such as the Corona pandemic, climate change and numerous current conflicts, exacerbate social disparities and increase the risk of food insecurity. Young people, especially young women, are disproportionately affected.
However, young people can also be the driving force that reshapes the current system. If we are to enable a world without hunger, we must achieve a state of food sovereignty in which people can exercise the right to healthy, culturally appropriate, sustainably produced food. To create this change, we need the energy and innovation of young people. Therefore, younger generations should be more involved in policy-making processes in the food system.
Agriculture and food systems must offer young people real prospects in life in order to counteract the current trend of global hunger development. Only if we start revolutionizing our food systems can we still achieve the second UN Sustainable Development Goal (SDGs) "No Hunger by 2030".
For more information on the topic of food security, please visit our topic page here.
Click here for the official GHI report.